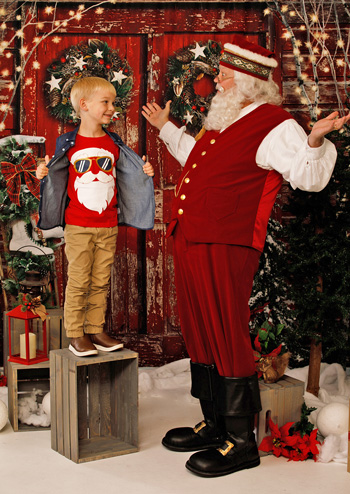 Upcoming Holiday Magic
Santa may only visit your house on Christmas eve, but he will be at Troup's for Christmas portraits and a magical visit on:
Saturday, Nov 20th
Sunday, Nov 21st
Wednesday, Nov 24th
Friday, Dec 3rd
Sunday, Dec 5th
*Appointments are limited and unlike a visit to the mall, there's no waiting in line and there's plenty of time for Santa to tell you about his reindeer and his head elf.
*$100 deposit paid at booking. Prints, cards, photo books and digital file options offered. For more information call Troup's.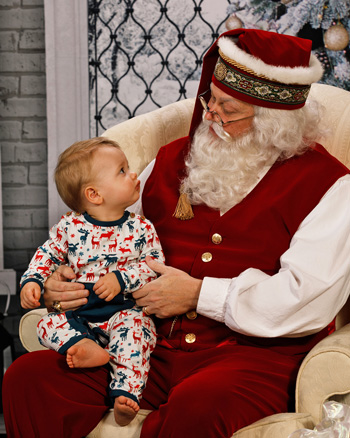 Upcoming Events
Nov 12th-20th Holiday Open House & VIP Event
Dec 3rd Christmasfest (Troup's open til 7:00pm)
Dec 6th-10th Holiday Session

Session fee $35
Christmas background
Packages start at $149
Gifts in Toccoa, GA
Since 1932, Troup's Studio & Gifts has been helping customers find just the right gift to give to their friends, family and acquaintances. Now under the care of third-generation owners, we're still just as dedicated to our customers as the day we opened our doors.
Stop in and browse our huge selection of gift items for yourself or ask us about photography and personalization services!
We've been in business for more than 85 years, proudly serving the gift-giving needs of customers throughout the area.
We have a portrait studio on-site and can also provide you with on-location photography at your next event.
Come to us for bridal and wedding registries! We'll help you select everything you want and more.
Our selection includes some of the best name brands, spanning all types of items. We're even a Hallmark Gold Crown Exclusive Store!
Our store is massive, spanning 10,000 square ft. in historic downtown Toccoa!
Unique Gifts for Everyone on Your List
When the time comes to give a gift, don't pick out just any old item. Instead, visit Troup's Studio & Gifts and browse our extensive selection of gifts in Toccoa, GA, to make sure you're picking out something that's thoughtful and personal. Our range of items includes just about anything you might be looking for, including housewares, greeting cards, candles, jewelry, t-shirts and apparel, sports items, figurines, home décor, custom picture frames, plush toys and much, much more! Whether you're attending a wedding, congratulating someone on a milestone, celebrating a birthday or shopping for that special someone, we'll make sure you walk out with the perfect gift.
Looking for something even more personal than a store-bought item? Visit our portrait studio in Toccoa, GA to make truly timeless memories! We welcome individuals, couples and families, offering posed and portrait photography to help you capture the perfect sentiment. And, with framing services on-site, we can help you put together a truly wonderful gift. Need someone to capture your special moments as they happen? We're also available for local-area location photography, for occasions like graduations, dance recitals, retirements, corporate events and more. Our mission is to encapsulate the spirit and emotion of your special moment, so you have a lifelong memory to look back upon. Schedule your appointment today to consult with us about photography services, or stop in to see any of the personalized gifts we offer!
Find the Right Gift Today

From birthdays to weddings, holidays to graduations, you'll find the perfect gift for any occasion in our store. Stop in today and let us help you find the right gift for everyone on your list!
Gift shop and portrait studio in Toccoa, GA also offering photography off-site to residents of the following areas:
Stephens County, GA
Lavonia, GA
Hartwell, GA
Royston, GA
Clarkesville, GA
Carnesville, GA
Cornelia, GA
Seneca, SC
Westminster, SC